42% of Women Begin Holiday Shopping on or Before Halloween
According to the NRF, nearly 140 million adults visited online and brick-and-mortar retail stores over the four-day Black Friday weekend last year. This season continues to be absolutely critical to marketers, as 20% of total retail sales occur between Black Friday and Christmas. For some retailers, this percentage is even higher. Research from Kantar shows that Black Friday has become so important that major marketers are beginning to use the term Black Friday in ads that launch as early as March — nearly nine months before Black Friday. So, how do marketers win the season without getting caught in the clutter? By segmenting their consumer audience and understanding when individual groups of targeted consumers begin their holiday shopping process.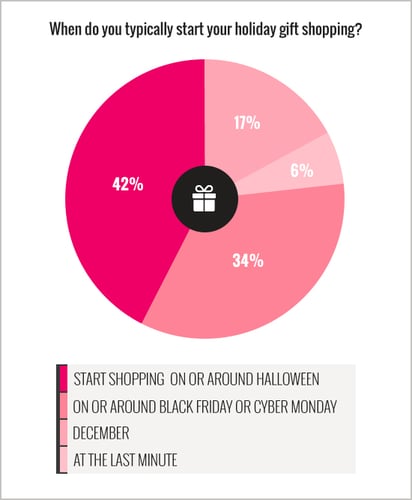 Our 2013 Holiday Shopping report showed that 42% of women begin their holiday shopping prior to or around Halloween, 34% of women begin their holiday gift shopping on or around Black Friday or Cyber Monday, and only 6% of women leave the start of their shopping to the last minute. Women between the ages of 18 and 34 are more likely to begin their gift shopping on Halloween (29%) or Black Friday (29%), while women over the age of 35 are more likely to begin their gift shopping the prior January (13%) or around Halloween (40%).
Looking ahead to 2014, marketers are more likely to continue to move the start of their holiday-related spending earlier and earlier to create separation from their competitors, gain share, and avoid the holiday ad clutter. But marketers who understand their audience's shopping patterns and are able to decipher when consumers are in the holiday shopping mindset may be more successful in turning those shoppers into buyers.