77% of Women Seek Recipe Content on Weekdays
Weekdays are for making plans, weekends are for enjoying life. At least, that's according to the women we surveyed as part of the 2015 POPSUGAR Insights Food study. Nearly 8 in 10 women said that they are most likely to go online to search or seek out new recipes and food items to add to their grocery list or meal plan on a weekday.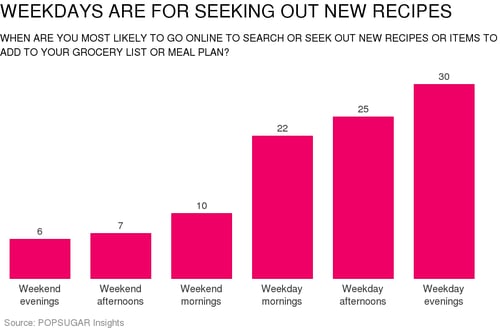 Weekday evenings were the most popular time of week for discovery, with 30% of women saying that's when they seek out new recipes. Evenings were followed closely by weekday afternoons (25%) and weekday mornings (22%). Weekends were less popular, with only 23% of women saying they go online to seek out new recipes and food items. Of women who did select weekend options, weekend mornings were most popular (10%), followed by afternoons (7%).