Check This Out: 55% of Women Share Meaningful Content
Brand discovery experiences begin within content and grow via social media. Content is the fuel of the social web, allowing women to discover, share, collaborate, and become influenced by brands and the content they share. As part of the POPSUGAR Insights 2014 Healthy Living Report, we wanted to explore the connection between social media and healthy living topics to understand the extent to which women are interested in following and sharing content from brands in this vertical.
We found that in general, over half of women are creators, posting to social media sites frequently (55%), and socializers, sharing articles, clips, and other content that have meaning to them (54%), and 42% of women have shared items that were originally posted by a brand or product. Nearly half of women use social media to keep up to date on the latest trends in healthy living by following brands that post healthy living content, and one-third of women have shared items related to healthy living topics they originally discovered from their friends.
Women were less likely to share items from celebrities and other public figures they follow on social media sites (15%). For healthy living topics, women are seeking inspiration from credible and reliable sources, and according to the women we interviewed, while brands are welcomed into the conversation socially, it can be challenging for a celebrity to be considered credible in this area. Women often feel that celebrities are merely paid spokespeople who are not fully committed to the product or the aspects of the lifestyle they are advocating. In general, women trust believable resources, like doctors, therapists, and other topical experts, to provide them with the essential information needed to pursue a healthy lifestyle. In some instances, athletes can be seen as credible in these areas.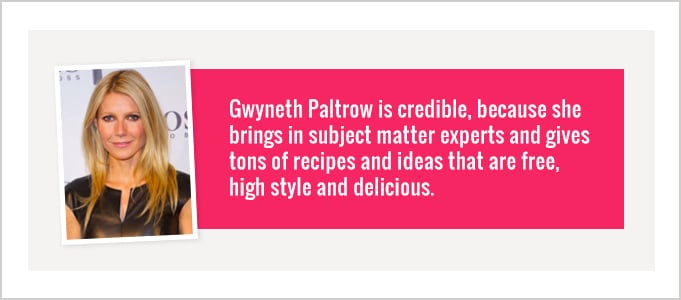 Despite the hurdles, there are some celebrities who have been able to become positive role models. Examples of celebrities who women feel have been able to transcend their celebrity status and become influential on healthy living topics include Gwyneth Paltrow, Jennifer Aniston, and Alicia Silverstone. Marketers who are looking to partner with celebrities should be sure to select celebs who have established credibility among women relative to their specific area of topical expertise.