I Will Survive: Songs of Inspiration for Living Healthy
Music plays an important role in the lives of women, and the connection between music and a healthy mind, body, and spirit is well documented. Music can act as motivator, as inspiration, or as the soundtrack to help ease out of a stressful workweek. We wanted to explore the connection between music and well-being in more depth, and as part of the POPSUGAR Insights 2014 Healthy Living Report, we asked women to select the songs that they feel best describe how they feel in their lives right now.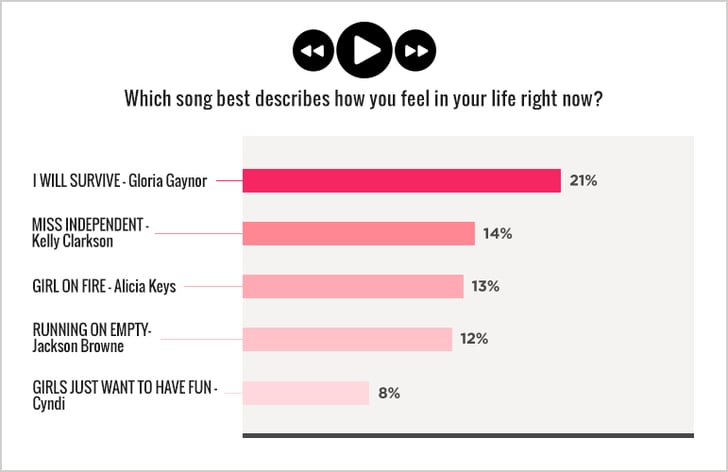 Overall, women between the ages of 18 and 40 selected songs that featured inspirational lyrics and focused on the strength and power of being an independent woman. Songs like "I Will Survive" by Gloria Gaynor (21%), "Miss Independent" by Kelly Clarkson (14%), and "Girl on Fire" by Alicia Keys (13%) showcase the mind-set of today's women.
"I Will Survive," a song first released in 1978, was the No. 1 choice for women across multiple segments. The song was selected by both millennials (women between the ages of 18 and 34) and the portion of Gen X women (women between the ages of 35 and 40) we spoke with. Perhaps not surprisingly given the message the song delivers of making it through difficult times, the song was also popular among parents and women who are employed full time.
The song's lyrics speak to the discovery of personal strength following the difficult end of a relationship, and the passionate and confident performance highlights universal themes that resonate with women of all ages to this day.
Music provides an important soundtrack to our lives, and women who are seeking a healthy lifestyle are goal driven, independent, and strong. Marketers that want to connect with these women on a deeper emotional level should seek to select songs that inspire, salute their independence, and motivate.