The Rise of Charity Driven Gyms
According to POPSUGAR Insights, a woman is 80% more likely to buy a product if the purchase benefits a cause she cares about. So it stands to reason that women will be more on board to purchase classes at one of the latest-generation fitness studios popping up across the country dedicated to causes.
First, there were the charity-driven walks and runs to raise money and awareness for causes. Then, it became the thing for fitness studios to host charity-driven classes. SoulCycle (locations throughout the US) has a regular recurrence of charity rides that benefit a multitude of causes from breast cancer research to the 9/11 Memorial (these classes are often hosted in tandem with celebrities). In this year alone, SoulCycle has raised over $411,000 ($150,000 from the 9/11 Memorial ride).
Now, studios like The Movement in NYC, whose slogan is "Give Back. Move Forward," are taking it to the next level: with a promise to donate $1 per person per class to their chosen cause. From The Movement's website: "We give back by donating to Cancer Research each month with the belief that it is just as important to help others as it is to help ourselves. There is so much power in working together for a greater cause."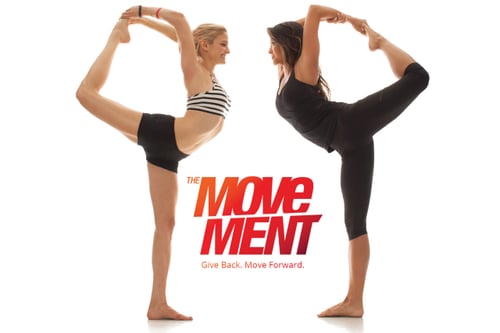 As reported by Self Magazine, The Movement (home to a new wave of unique and innovative mashup yoga, dance, and strength classes; NYC), Studio 360 (cycling and yoga; NYC), and Kix & Spinz (HIIT-style workouts; Seattle) have committed to donating $1 per person per class to a cause. Studio 360 partners with a different organization each month. Kix & Spinz, host of various fundraisers, will also be switching it up while making it personal to its community, supporting a different charity nominated by a member or client each month. The Movement takes it to another level by committing all of its donations to the National Brain Tumor Society in honor of founder Jordan Canino's late mother. The Movement will also have workshops and events where all proceeds go to cancer research, as well as a "karma jar," which will reside at the front desk for anyone inspired to donate more. The Movement is the first business that will donate part of EVERY single sale to the charity.
Working out to benefit a cause? Sounds like a win-win. Here's hoping that more and more fitness studios follow the lead of these innovators and give more people the chance to do good for others while doing good for themselves.