What Women Want: 5 Most Important Desires
Women face many challenges in their daily lives. Balancing their personal life, their career, their relationships, and their ambitious life goals can be difficult. Time constraints always exist, and therefore it's vitally important for women to set personal life goals to ensure they are focusing on the aspects of their lives that are most important to them.
As part of the POPSUGAR Insights 2014 Healthy Living Report, we asked women to select the attributes they felt were most important to them today. Their choices varied from health and beauty topics to career and relationship topics to ways that they could make a difference in the world.
Despite the proliferation of reality television and the more narcissistic corners of social media (selfies, anyone?), only 3% of women felt that having "fame or recognition" was important to them. In a somewhat similar vein, "sex" (12%) and having "good looks" (19%) rounded out the least important things to women.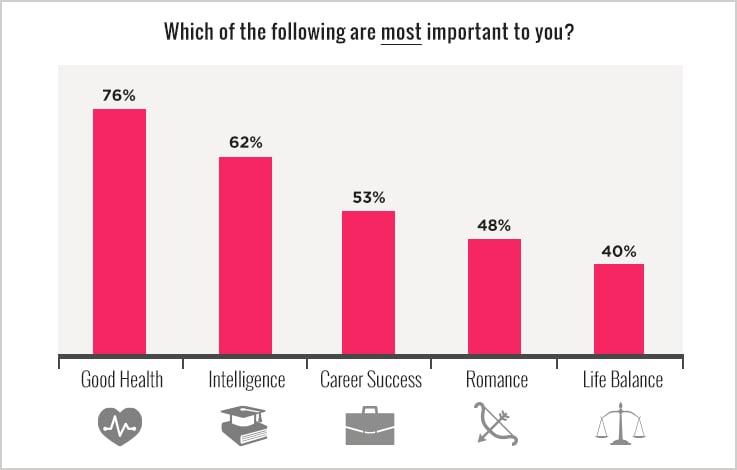 So what is important to women? "Good health" topped the list (76%), followed by "intelligence" (62%) and "career success" (53%). Less than half of women chose "romance" (48%), 40% of women selected "life balance," and less than 40% of women selected "making a difference in the world" (39%) and "inner peace" (36%).
Exercise and nutrition consistently rank as the most important and engaging topics related to healthy living, and women seek credible content and trusted brands to help them cut through a cluttered landscape in their busy lives and help them make product choices that will ultimately improve their lives.